Introduction
This was a trip from Pittsburgh to Washington, DC over the trails of the Great Allegheny Passage and the C&O Canal. Technically we went from Connellsville, PA, outside of Pittsburgh, and finished in White's Ferry, which is just outside of Washington, DC. Starting in Connellsville provided a starting point that made getting to Cumberland, Maryland on the first day feasible. With the on/offs along the way I figure it was 255 miles altogether. Chris makes it sound so logical, doesn't he? The truth is, he wouldn't let us start in Ohio Pyle despite my protests that a 71-mile day, the majority of which would be up a progressively grueling grade, would be penance enough for the sins of my entire life. To him, it was a travesty that we weren't starting out at our front door, which would have made the trip truly authentic in his mind, or even from Boston. And besides, he said, the last 20 miles of the day would be downhill (more on that later). So, Connellsville was the best compromise to which he would agree. That, and in training for the ride, we had biked the upper parts of the Mon-Yough Trail between Pittsburgh and Connellsville innumerable times and didn't feel a need to do it again. White's Ferry was the planned destination because we were staying the night in Gaithersburg and it was a convenient stopping point to get picked up.
Weather: The weather for the trip was nearly optimal. Reading everything I could of others' experiences, it was obvious weather could make all the difference in how the trip goes, especially for the C&O Canal where rain=mud. 180 miles of mud can make even the most intrepid biker cringe. This trip wound up being virtually rain-free and the entire route had been dry enough beforehand to pose no mud issues at all. The almost unavoidable tradeoff was the heat and, in fact, one day of our ride turned out to be the hottest day of the year. Oh fond memories of near heat stroke... The shaded trails are noticeably cooler than areas off trail, and much cooler than biking on the road.
Acknowledgements: First off you have to give credit to Heidi, who may not be as much of a biking enthusiast as I am, and tolerates most of my idiosyncracies most of the time. 250 miles of biking goes a bit beyond . Her nephew, Johnny, survived the trip far better than either of us. Being 14 at the time and in good shape probably explains that. Little did he know that I wanted him along to make sure word got out if either (or both) of us just collapsed out in the middle of nowhere. There are many parts of the trail where you can't get cell phone service, so this wasn't a bad idea. Plus, we tore a 14 year old away from his computer for three and half days, no minor feat in and of itself! But never a complaint even though he carried a bit more than his share the whole way. Heidi's mother provided essential logistical support, bringing us to Connellsville to start out and even driving us back from DC afterwards. Thanks, Mom! Lots of help from all those who put information out there on similar trips. Long before meeting him, I discovered Ed Quigley had some of the most useful trip reports out there on the web, other than the obligatory publications of Mary Shaw and Roy Weil of course. So useful in fact I am not even trying to make this an information reference on any of this. For that just go check out Ed's biking web page or the omni-resource Allegheny Trail Alliance web page to find useful information. Ed may not realize, but the personal accounts of his trips that he gave Heidi and me over dinner one evening was equally helpful in inspiring the vast endeavor by giving a real example of someone who has really done this. Probably the only bit of advice we didn't take from Ed up was something about working to arrange catering to be brought out to us one day on the trail. Chris may or may not realize that if we hadn't met up with Ed that night, there was no way in hell that I was doing this trip. But Ed was very encouraging and made the idea of a bike ride to D.C. sound not so crazy after all. In retrospect, I probably shouldn't have had those beers with Ed.
Equipment: Proving you don't need any special bikes, my 10 year old Giant Rincon SE worked for me. I need to buy a lighter bike, but I wasn't about to switch bikes so soon before the trip. I still haven't . It's an awfully reliable bike given how bad I am at maintenance at times. Heidi had a far newer and lighter, but still well-used, Trek 4900. Johnny actually had a borrowed old bike from Specialized... I don't even know what kind of bike it was other than it was a mountain bike. So nothing more advanced than you probably ride right now. Note: I probably wouldn't try to do this trip with a road bike. The Great Allegheny Passage is a pretty smooth trail; the C&O is not as smooth in many places. There are lots of sections where you're not exactly doing technical riding, but you will encounter serious ruts, rocks, and the like. I think it's very likely you'd end up with a flat tire pretty quickly with a road bike. The most advanced piece of 'technical' equipment I had was a set of cheap Bluetooth headphones I had purchased to allow me to listen to music along the way. It's nice of Chris not to mention that he was using the headphones to drown out the sounds of me singing along to the playlist I put together on my ipod for the trip. Johnny also took an ipod with a playlist we put together for him before the ride. Once you are out in the middle of nowhere, it's pretty safe to keep headphones on as there's little chance anyone is going to be riding up behind you. Unfortunately for Chris and Johnny, that meant I was at liberty to sing at the top of my lungs.
One of the best pieces of advice that I took away from our pre-trip meeting with Ed was his suggestion to make an appointment for a bike fit through the sports program at UPMC in the South Side. That, and the bit about the chamois butter. . .
Other than the bike fit, which convinced me to switch to clip pedals, the most expensive adjustment I made to my bike was replacing the saddle with the women's Fizik Vitesse Tri Saddle before the trip. It's really hard to find good information on saddles for women, so I had to wing it a bit. It seems counter-intuitive, but those big, squishy saddles don't necessarily translate into a more comfortable ride, especially if you're doing distance riding. In-store selection of saddles designed for women is pretty lame - usually, you'll find one or two saddles from Terry, if you're lucky. I ended up ordering mine online through REI because they have a great return policy. If I wasn't going to be able to try the saddle out before I bought it, I wanted to make sure I wasn't going to have a hassle if I didn't like it, especially since it was the most expensive modification I was making to my bike.
Random Ephemera: Two surprising things. One is that I don't have a mass of stats on the whole trip. Lots of things I could have counted along the way. Maybe I wasn't in wonk-mode, but it was more just being focused on moving down the trail. I also don't have as many photos as I would like. I discovered soon into the trip that I had the wrong memory card in my camera, which filled up far too quickly. Some photos are those from the far less clear Blackberry camera. Alas.
References
Allegheny Trail Alliance's Great Allegheny Passage page
WotGAP: Waypoints of the Great Allegheny Passage
Yahoo Groups: C&O Towpath Group
National Park Service Chesapeake and Ohio Web Page.
Articles
Next Page, the extended version: A Question of Grit, by Franklin Toker, Pittsburgh Post-Gazette, June 29, 2008.
Books
---
Day 1: Connellsville to Cumberland - 91 miles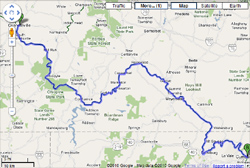 Chris: Connellsville was chosen as a starting point for a couple reasons. It was about as close to Pittsburgh as was practical for us to get to Cumberland over the first day. Also, we had biked the parts of the trail from McKeesport to Connellsville innumerable times, so we had no strong feeling that it needed to be repeated. On the road by 6am, we were in Connellsville around 8am. A stop at the Sheetz just a few blocks from the trailhead provided some last-minute provisions and we were off.
Most know that the trail southeast from Connellsville is one of the most scenic. We made fairly quick progress to Ohiopyle and then stopped for lunch in Confluence. Just a few blocks off the trail, we found the Lucky Dog Café, which was ideal, cool, quick service and good food. Note: I don't trust any of my food reviews for the entire trip. Given how hungry I was most of the time, I think I would have eaten and enjoyed the saltpork in brine that used to feed sailors even after being stored for years in wooden casks.
The Rockwood Shoppes and Opera House was another stop where we quickly consumed a whole pizza. Onward to Myersdale, Deal, and around 6pm we finally reached the Big Savage tunnel and the mountain's summit. With 3 people and stops along the way, I have to admit that progress was slower than I expected. The result was that our arrival was later than I expected. In fact, we hit twilight coming down the mountain, which is not ideal, and it was dark around 9pm when we finally arrived at the Cumberland Holiday Inn. So a long day, but 91 miles covered, which included a little mountain along the way. . .
Heidi: Connellsville was not my ideal starting point, but it was the best compromise I could work out with Chris. If you are not up for a 91-mile ride up a mountain, you might want to consider starting at Ohio Pyle. Either way, it's essential to start out early. As Chris mentioned, we finished the day in the dark. I fell twice that first day, so I was pissed, sore, and exhausted by the time we rolled into Cumberland. Chris didn't say so at the time, but he was sure that by the next morning I would be sending him and Johnny down the trail without me. It's amazing what food, a hot shower, and a decent bed can do for you, however, and I was (mostly) ready to go the next day. Cool stuff on Day 1 included the ride across the viaduct and the windmills at Somerset. We also saw some snakes sunning themselves on the trail, including the one I think I ran over - I didn't go back to look! And of course, the summit at Big Savage, where you are on top of the world and realize exactly why you felt like you were riding through molasses the entire day.
OK OK... I admit it. I didn't show her the elevation chart before we did this the first time, or else she would never have come.
---
Day 2: Cumberland to Hancock - 60 miles

Chris: The late arrival the night before necessitated a bit of sleep and we were not up before 9am. Breakfast was in the hotel restaurant and we set off on the C&O Canal around 11:30am. Earlier would have been better, but the rest was needed.
This part of the trail was completely new to us and progress started out quickly. Making it through the Paw Paw Tunnel is an experience being unlit and rutted. We had packed a flashlight and you really needed it. Paw Paw was also one of the few places we could stop and eat. A bit of confusion over where the town itself was delayed us a bit. Turned out to be a short ride into town and a late lunch was at Grandma's Country Kitchen, which is well recommended. They even provided a small storage barn for bike storage while we ate. Across the street is also a convenience store optimal for stocking up. I remember trying to use my cell phone and was told that it was unlikely I would get a signal almost anywhere in town. Just surprising because Paw Paw was one of the bigger places along this stretch of the trail.
Approaching Hancock had the advantage of using the paved alternative bike path heading into town for the last 10 miles. It certainly speeds you up, but I think it's more a benefit psychologically giving a clear sign that you are almost there. Our late start and the detour made for a late arrival again. Not as late as the first day, but we just barely missed the closing of Weaver's Restaurant in Hancock, which is famous for pies. I had been dreaming of those pies for many an hour before arriving. So we will recommend it even though no pie for us.
Hancock seemed like the biggest town along the trail and has all that you need. We had no immediate problems, but there is a bike repair shop right along the trail. A large supermarket and Sheetz was right in town. We stayed at the Super 8. The motel was fine, the main disadvantage is just that it is a few blocks out of town and you need to cross an onramp to I-70 to get to it from town. Not a big deal and not far enough to worry enough except at the end of the day you don't want to go any farther than you have to. There were other options, but we took dinner back to the motel from a Pizza Hut that was close to the motel.
Heidi: Amazingly, the 60-mile day felt just as hard Day 1. I was so tired that night, I didn't even complain about staying at a Super 8! I, too, was sad about not making it to Hancock in time for pie at Weaver's, but had no water left in my body for tears. It definitely was exciting to be on a trail that we had never ridden before, and the last 10 miles on the paved trail helped, too, but not as much as that chamois butter . . .
---
Day 3: Hancock, MD to Shepherdstown, WV - 51 miles

Chris: Though our days were planned to get shorter each day, this was probably the hardest day. It actually turned out to be the hottest day of the year in most parts of the midatlantic and it also wound up being the only day we had to detour onto the much hotter roads for a piece. At Williamsport, we left the trail to eat at the recommended Desert Rose Café in town. The problem was that I missed the descriptions explaining that the town of Williamsport is well above the trail. The heat made the steep climb into town less than enjoyable. The café itself is quite nice, but was quite packed when we arrived so we had to eat outside. No complaints and the owner, Rose, couldn't have been nicer. We kibbitzed a bit with her and she mentioned how Franklin Toker described a similar stop in his epic ride that he documented in the Pittsburgh Post-Gazette. She told us she took a bit of friendly umbrage that Dr. Toker wrote in the paper that she had been flirting with some of his traveling party. I suspect from reading the actual article that the bikers were probably a bit delusional from exhaustion by the time they arrived in Williamsport, so I will side with Rose on that.
From Williamsport, we continued over the road to skip several miles of trail riding and jump past the recommended detour. A section of trail around mile 87 was, and as of 2010 appears to still be, out of commission. A marked detour would put you approximately 5 miles on the road to get past the closed section of trail. We opted to take a wider detour that shortened the distance traveled by approximately 5 miles. Would have probably been a better idea if it really was not mid-day on what was a very hot day. We made it 5 miles down the road and got back onto the trail at Taylor's Landing.
By far the nicest place we stayed was the Bavarian Inn and Lodge in Shepardstown, WV. It is over the Potomac from the trail, but literally just over the river. Quite a place and well recommended. We even had a room with a jacuzzi, which at this point in the trip was put to good use. The inn is not quite in town, but close enough to walk. Dinner was at the Blue Moon Café, which was about a mile walk away from the inn…but we were not about to get back on our bikes that evening.
Heidi: "Only 50 miles today!" was my thought on the morning of Day 3. But, as Chris mentioned, the day was brutally hot. I didn't really notice the heat at first - when we were riding along between the canal and the Potomac, it was quite shady. The heat was more of a factor on the road, but Chris' Blackberry ended up saving the day when our wider detour got us a bit lost. Thank goodness for Google maps! I think we were all happy to get back on the trail once we found it again. The only problem was, it was so hot that we used up our Gatorade and water too quickly and had to resort to using the pumps along the trail. The water is potable, but it tasted horrible! It was better used to dump over our heads and bring our body temps down. I was a little worried about heat stroke, and even stoic Chris was agreeing with me on this point. Despite many stops for rest and rehydration, we made it to the inn before dinner time, and it was lovely. I highly recommend the inn as a reward to yourself for making it this far!
---
Day 3.5: Shepherdstown, WV to White's Ferry, MD - 37 miles

Chris: This was our shortest day so we did not feel so bad with a late start. Thus I am calling it a half day of biking. Without the detour and a slightly cooler day we could have pushed on and finished on day 3 I suspect not that I had a choice at that point. Again we didn't have a big need to start out early and were not really on the trail before 11am. The only major stop along the way Harper's Ferry, WV. We parked our bikes on the trail and walked over the pedestrian bridge into town. Plenty of places to eat and sightsee if you have time. We were planning to end the trip at White's Ferry, which is 30 miles from the actual end of the canal at Georgetown. Made for a somewhat anticlimactic end, but by pure coincidence our ride arrived at White's Ferry within a literal minute of our arrival by bike.
Heidi: I would have liked a little more time in Harper's Ferry, but we were trying to coordinate our arrival in White's Ferry with Mandy, our angel and savior at the end of the line. I probably should have kept a journal during the trip, it's all kind of a blur now, but I'm pretty sure this was the day when a deer leapt out onto the trail a mere three feet in front of Johnny. Had it been me, I'm sure I would have wiped out - fortunately, I was a ways behind him at that point. There were also more snakes along the trail here, and lots of turtles in the canal. I have no other real clear memories of this day beyond an overwhelming desire to just be done. As we were approaching White's Ferry, Mandy pulled up in her Jeep Cherokee. I was never so happy to see anyone in my life! The ride was over, I had conquered the Pittsburgh to DC trail, and Chris would be satisfied. The truth is, he's been planning our next adventure since the day we finished this trip, probably even while we were still biking. I imagine I'll be typing up another one of these reports before long.
I'm thinking this.